R. D. Hales Jr.
Born: 26 Mar 1825
Died: 5 Apr 1826
Burial Lot:
Survey March 2006 KRJ & CLS
Burial Row/Column:
0/10
Burial Notes:

Click to view/add notes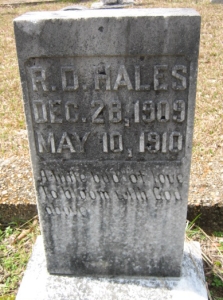 R. D. Hales
R. L. Hales, Jr. son of R. L. & Alleen Hales Mar. 26, 1825 Apr. 5, 1826 He left our arms smiling and went into the arms of Jesus.